Maldives
Is a place where anyone could enjoy a dream holiday in an island surrounded by the blue waters & white sand under the tropical sun. It's a real paradise for diving enthusiasts to experience the beauty of a great variety of fish, turtles, corals, and many other marine lives. They have diving centres with professional staff with years of experience and are affiliated with PADI, NAUI, and CMAS. Maldives has about 80 resorts well equipped providing all the comfort needed for tourists, with The traditional Maldivian hospitality. Each resort is situated in an island, which generates its own power, water supply and manages its sewage and solid waste according to the highest standards, in an eco-friendly manner.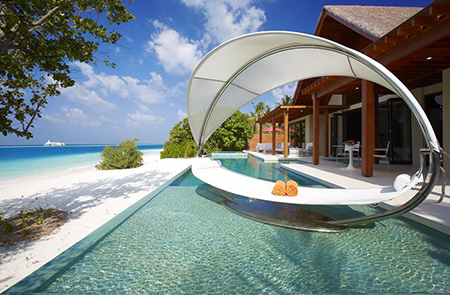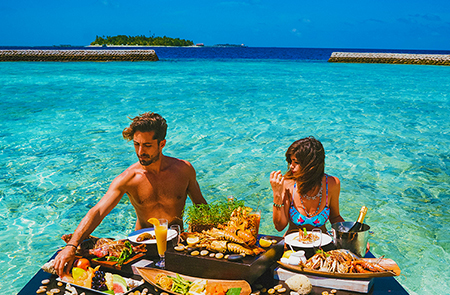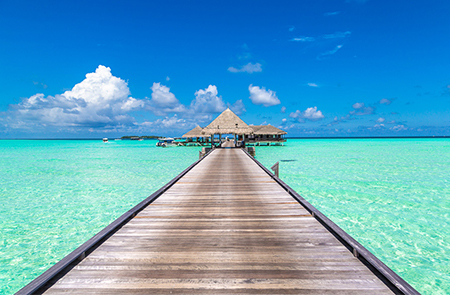 | | |
| --- | --- |
| | Detail |
| No of Islands | 1190 |
| Capital | Male |
| Population | 300000 Estimated |
| Religion | Sunni Muslims |
| Languages | Dhiveli is the national language, English is widely spoken |
| Currency | Maldivian Rufiyaa (1$ = 12.75Rf) |
| Credit cards | American Express, Diners club, Euro Card, Master and Visa cards |
| Temperature | 25 – 30º C |
| Monsoon | South–West (May to October) / North-East November to April) |
| Average rainfall | 1948.2 mm |
| Electricity | 220-240 Volts |
| Electricity | 220-240 Volts |
| Clothing | Lightweight cottons and linens |
| Visa | A tourist visa for 30 days on arrival. A visitor should have Minimum of US Dollars 25 per day (per person) according to The number days |
Hotels
Hotels in Maldives are of the 3 to 5 star, well equipped to international standards Providing the facilities of satellite TV's, & internet facilities. Most of the hotels have swimming pools. Generally the waters around the resort's are not deep which gives the feeling & safety of a swimming pool.
Cuisine
Cuisine Mainly serves international buffets for all three meals with special theme nights for dinner.
Facilities available
Facilities available, Swimming pool, sauna, massage, scuba diving, windsurfing, catamaran sailing, game fishing, Beach volleyball. Gym & indoor games are free of charge in most of the hotels.
Our price includes
Our price includes Accommodation, with meals according to the hotels selected Return transfer fees from the airport/ hotel Taxes and service charges.